Alright, seeing as the Flyers continue to roll and perform amazingly well, I've decided that I'm going to take the time and create an All-Decade Flyers Team.
One blog created an All-Decade team that I particularly wasn't a fan of...some names were left off and it upset me.
So, I've decided that I am going to make my own. I'm going to make 3 teams, 18 players total.
Let's see if you agree:
Team 1:
At Left Wing.... Simon Gagne.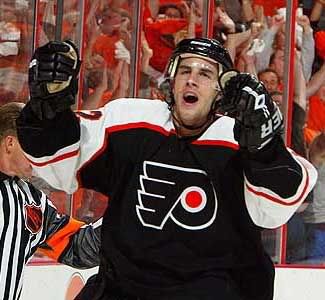 No one can even touch Simon Gagne in this arena, seeing as he is the only player on the current Flyers left and is still producing at a very good level. Natural goal scoring ability, decent leadership ability and his place on the PK make him an obvious pick.
Next, at Right Wing...Mark Recchi.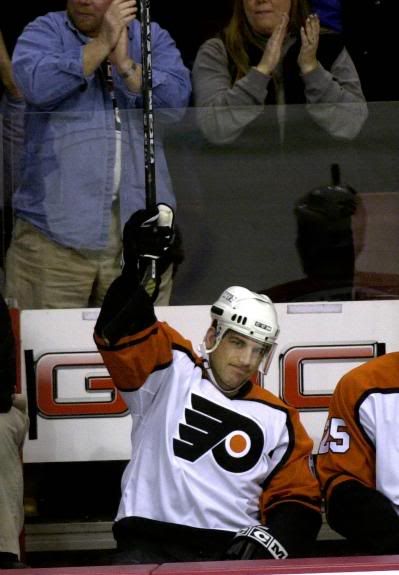 I know many will argue with me on this pick, but simply...Mark Recchi is too good. He was on some of the best teams the Flyers have ever had during this decade and played extremely well throughout for us, despite not being here as long as a Simon Gagne had. The "Recching Ball" gets my vote for 1st team.
Next forward, at Center...Mike Richards.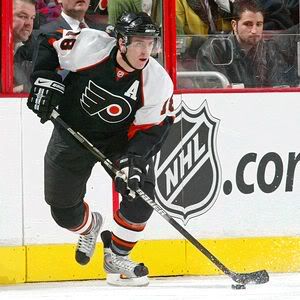 I swear, if I have one person comment or e-mail me saying that Keith Primeau should be in this slot, I will stab their eyes out. Look, I like Keith Primeau too, but he did nothing for Philadelphia that Mike Richards hasn't/can't do. Mike Richards is an NHL All-Star, defensive stud on PK, and another good captain. He hasn't hit his peak yet and frankly, I'm excited for when he does. Regardless, Primeau showing up for one playoff year doesn't impress me.
First up on defense is...Eric Desjardins.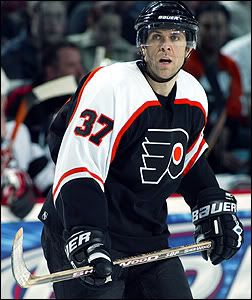 Although I was never particularly a fan of Rico, it is undeniable that he is the best defenseman the Flyers had this decade. He really started his decline once 2000 hit, but he still earns the top spot on my list as Timonen and Pronger haven't been here long enough for me to think otherwise.
And lastly on defense...Kimmo Timonen.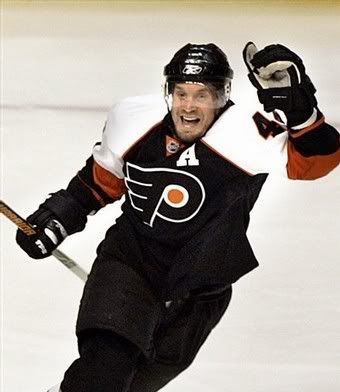 Well, what can I say about Kimmo...the little man is an incredible defender for his size, just standing at roughly 5 foot 10. He is incredible with his stick work when being backed up into his zone and has been solid offensively, although not very impressive.
He is head and shoulders above any other Flyer during this decade (once again, Pronger does not count). Kimmo is a 6.3 million dollar cap hit I am proud to be the owner of.
Now to finish Team 1, I present to you my goalie choice of the decade...Roman Cechmanek!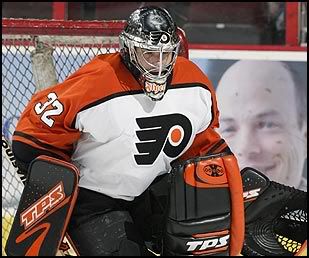 Yes, I picked Roman "I like to stop pucks with my face" Cechmanek as my goalie over Esche, Biron, Boucher, Michael (Jesus) Leighton, but with what I think is obvious reasoning.
Roman Cechmanek is the only Flyer goalie this decade to be a nominee for the Vezina Trophy. He was also a recipient of the William M. Jennings Trophy (along with Esche) in '03. Also, in his three seasons with the Flyers, he had a very good save percentage, being .921, .921 and .925, respectively, despite collapsing in the playoffs (then again, that's the same story every year for any of our goalies).
Now that Team 1 is done, I'll give a quick run-down of my Team 2 and 3 choices.
Team 2...
Hartnell-Primeau-Roenick

Johnsson - Hatcher

Esche
Last team....Team 3
Kapanen-Carter-Knuble
(NOTICE: Forsberg would be on this team if Foppa wasn't hurt constantly. On pure talent, he's better than anyone this decade. Oh, Swedish Man...you could've been awesome here...)
Therien-Markov
(Say what you will about his troubles he may or may not have had over in Russia...I love him.)
Biron
If you can give me a good argument against those choices, just try. I will thwart whatever your answer is and best you.
Love, Kevin.