Flyers fans!
Happy New Years bitches! It's been a very long time since I have updated this blog, mainly because I have gotten a life of my own recently. I have been on a break from school, so I decided to visit the old blog and hopefully see enough games where I can continue to give my to the masses.
As my first comment in a while,I'd like to say: HAH Pittsburgh!
I was lucky enough to attend the beat-down of the Penguins at the Mellon Arena on the 7th. Being the only Flyers fan in a 30-foot radius, it was hilarious to start my insane laughing as the Flyers piled on the goals. No one said anything, no one even looked at me.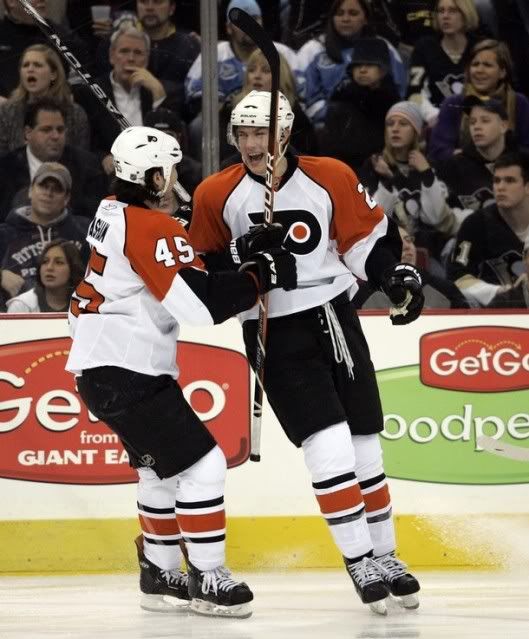 One thing I did learn from the experience: Penguins fans hate Scott Hartnell more than any other Flyer and it isn't even close. Why? I don't get it. Maybe he runs into goalies, maybe he has amazing hair, and maybe he's a bit of a jerk...but why? I'd be targeting Richards or Carcillo maybe instead of Hartnell.
Oh and guess what? After the game, me and my lovely friend Ashley stood outside in the freezing cold for two hours to see DUN DUN DUN...Sid "The Kid" Crosby and possibly receive his autograph. Why two hours? Sid apparently contractually does many interviews after games. We stood outside and shook with frost bite down to our bones to meet this guy. What's great is, I dislike Sidney Crosby the hockey player; infact, he's everything I dislike about the Pittsburgh Penguins. I was able to put that aside, as my friend was obsessed with meeting him.
The Pittsburgh center rolled out of the gate and pulled up to the little group we had and signed our items. Here's a photo of my friend having her jersey signed:
I got a card signed as well, but that's beside the point. Sidney Crosby, although I hate you as a hockey player, you are a nice man for signing for your fans like this. I'm happy with you.
Well, I really hope I keep up to date with this blog for my sake, and for whoever likes to read it. I really love Flyers hockey and I AM a Comm/Journ major at my university, so it is probably good for me to write.