Chris Pronger is the man. I love his game in every aspect, ranging from his shot from the point, physical play, leadership and defensive positioning....but I've come to learn something else about him that I love:
His personality.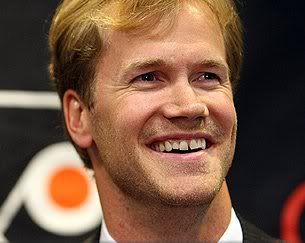 I sat and watched his press conference at noon today, and sat there laughing continuously after each response to reporters.
One of the more interesting statements made by Pronger, referring to his reputation as a player, was "I put a lot of pressure on myself...fans are booing, in my hometown...it's up to the player's to be held accountable for their playing"
When a reporter asked "What kind of message can you send to them (Malkin/Crosby), as a Flyer?", Pronger smiled and said "I think you know the answer to that". The reporter said "I know what I'm thinking, what are you thinking?", Pronger again smiled in a laughing matter and said "I'll just let you come up with your own...we don't want to pre-meditate anything, now do we?"
He is a very hilarious fellow, I have to admit.
Another reporter brought up a quote from Chris, that said "...you said you need two shut down defenseman against these two guys (Malkin/Sid, again)...". Chris confidently went "No, two shut-down pairs..." ::pause:: Chris added "That's four" and held up four fingers for the reporter, and the room erupted in laughter at the reporter
Just when we thought Pronger had beaten the reporter down to a proverbial pulp, he added again: "But he plays them sometimes together...". Pronger said quickly "Well, then you put your two top-D together."
I have to say, Pronger made the reporters of this city look bad. Regardless, the press conference continued on.
Another guy threw out to Chris "...Braydon Coburn said last week he had a poster of you in his bedroom wall growing up...", and Chris quickly said "So he's the one!"
I admit, I chuckled at this one pretty heartily.
When asked about why the number 20, he said it was because of his father's number playing hockey. A reporter asked if he played like his father, Chris replied in a laughing manner "I hope not. You obviously haven't seen him play... I took his number, but not his game."
and the last comment I want to share about this amazing person
When asked "Do you feel 34?"...he said "I feel 24" with another smile on his face.
I can't be anymore excited for this upcoming season than I am now. The Flyers logo looked amazing draped across this man's chest. Good luck to him and let's hope the Stanley Cup is making a return to PA next year, but flying the orange and black this time.