I figured, since many of you are going to be reading my blogs for a long time, it would only be right if you got to know me a little bit better.
My name is Kevin, I am 19 years old from Philadelphia and a huge fan of, you guessed it, the Flyers.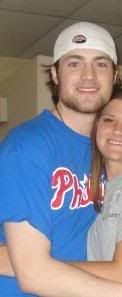 I have been a fan since …1998 or so when I first laid eyes on the large brute Eric Lindros, smooth-skating Eric Desjardins, and the large/de-formed nose of Rod Brind'amour. I was hooked.
Now, I am just a college student living my life out as the average American hockey nut. I go to games as much as I can, I collect autographs sometimes from players, and make videos occasionally when I am extremely happy, mad, or bored.
And lastly, it is my goal to become an intern for the Philadelphia Flyers once I am eligible to be considered (have to be a Junior or Senior in college, meh).
I have a LOT in store for you guys (the reader's) as this blog continues to grow…more interactive stuff, plus hopefully some more personal things from the Flyers themselves.
Remember.
LET'S GO FLYERS (Until you start sucking, in which case LET'S GO PHILLIES!)