The NHL Awards are wrapped up.
Was anyone surprised with ANY of the outcomes? I sure wasn't.
Normally, I don't even bother to watch the NHL Awards. I already know who should probably get them, and the show itself is usually pretty mind-numbingly boring. This time, however, my mother insisted on watching the awards (perhaps it was because she is a Pens fan and her boys were up for a few awards?). Let me just tell you how my viewing of it went.
First off, the opening was a riduculous MESS...Chaka Kahn comes out singing with some random guy who's name I can't recall at the moment, singing a totally irrelevant song and honestly, making me question how anyone ever bought her shit when people actually gave a crap about her (Chaka). If her singing wasn't bad enough, she has the BALLS to come out on stage and tries to convince me that she is wearing real hair on her head. Come on, get real.
It was nice to see Kevin Connolly (of Entourage, who is an Isles fan..poor guy), Michael Buble (great singer...why wasn't he singing instead of Miss Ebony?), and J.R. opening the show; I thoroughly enjoyed watching the usually excellent speaking Jeremy Roenick stumble through the introduction.
And BOY, can I just tell you how THRILLED I was when they decided to show a highlight reel of how awesome the Pittsburgh Penguins are for winning the Stanley Cup. It just gave me chills, but in all the wrong places.
Then they started with the actual awards. Steve Mason won the Calder, which I agreed with solely because he is a goaltender and Bobby Ryan is a forward....goaltending counts more. That's it.
The next award, the Lester B. Pearson award, was just cruel. After the Calder winning Mason left the stage, out stumbles poor Vladimir Konstantinov, whom I didn't think could even walk. Seriously, what the fuck was the NHL thinking bringing this guy out on national TV! When it was time to read the winner, he had no idea what was even going on. That's another strike against you, Bettman. Oh..yeah..Ovechkin won. Yays...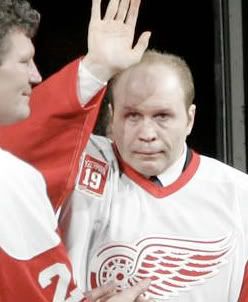 The Selke was next. Datsyuk won, Richards lost. Write-up over.
I'm not going to mention the Masterson, Lady Byng or King Clancy trophies because they're all stupid and I don't care who wins them. The William M. Jennings, Art Ross and Rocket Richard trophies already had winners so we'll skip them as well.
What is a Scotia Bank Fan Fav Award and why should I care who wins it? ::NHL Exec whispers into my ear::...Ohhhh..it is a bullshit trophy meant to eat up time and make it a more legit awards ceremony?..ah..touche Mr. Bettman...touche.
Here comes Chaka Kahn out to sing...AGAIN. Where is Donte Stallworth when you need him to end my misery?
The next award, the Vezina, was won by "Tiny" Tim Thomas and I think it was well deserved. Mason and Backstrom were pretty deserving, but Tim Thomas was probably the best goaltender from beginning to end.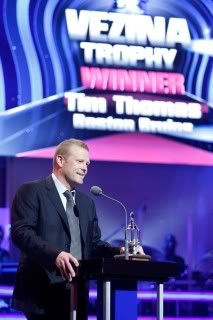 His heartfelt speech was really nice to see, considering there have been jerks like Martin Brodeur winning it so much in the past 20 years and have been de-sensitized to how great of an honor it is; for Marty, it is just another day on the job. What a douche.
Claude Julien won the Jack Adams. Did anyone think he WASN'T going to win it? He was up against a guy who had a non-playoff team (Blues) and a guy who had the #1 team in the NHL for a while but then collapsed like a house of cards (Sharks). No contest.
The "Messier Leadership Award"? I'll leave it at that.
The James Norris Trophy was up next, presented beautifully by Brian Leetch, and was tarnished by the nomination of Mike Green for it; Mike Green may've scored over 30 goals, but he still sucks. Yes, I think he sucks...him and his little white-boy mohawk.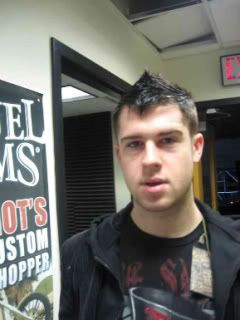 Chara is the total package, plain and simple. He's too big, strong, fast and good to have lost to either Lidstrom or Green this season. Congrats buddy!
(On a total side note..if you put Datsyuk's head on Chara's body, you would have Lurch from The Addams Family)....just saying.
And lastly...Ovie wins the Hart Trophy. I'm glad for the guy, I think he's the best thing that could've happened to the NHL after the lockout. He's big, strong, foreign, and just a funny guy. I've heard from a source that a few months ago he walked into a strip-club with some buddies, and left $18,000 poorer in one night...if that doesn't tell you he knows how to have a good time, than what will?......Oh, and he's a great player. Congrats Alex the Great!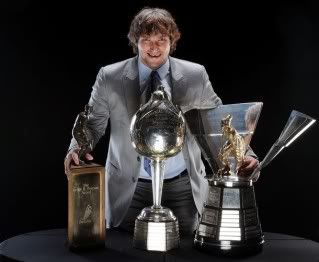 Well, that'll wrap up my review. I hope you enjoyed
The Batt-Man
(Kevin)